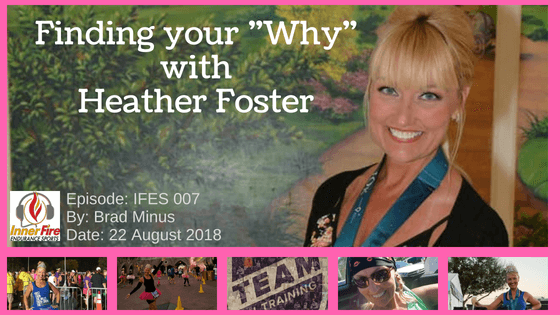 Episode: 00​7
Title: ​Finding your "Why" with Heather Foster
Final Show Link: https://innerfireendurance.com/ifes007
In this episode:
I interview one of my long standing clients "Princess" Heather Foster. She is an amazing person who participates in endurance events for other reasons besides fitness and personal glory. It just might help you find another reason to reach your potential.
Our conversation covers -
Heather's start in Endurance Sports
Her first events
Finder her "Why"
Her experience with first marathon
Taking on other challenges
Her experience with her first 50-miler
Starting the Ketogenic Eating Plan
Coaching
Her favorite tools
Heather's Shout outs
Heather's LLS Fundraiser Cupid for a Cure
Heather is an extremely inspiring person not only as she continues to push the limits of her endurance by running farther and farther, but for the reason she does so.
​Subscribe to the Inner Fire Endurance Podcast:
Follow our Podcast
Join the Conversation
Question of the Week:
Why do you participate in Endurance Sports?
Explore these Resources
Resources:
In this episode, we mentioned the following resources: