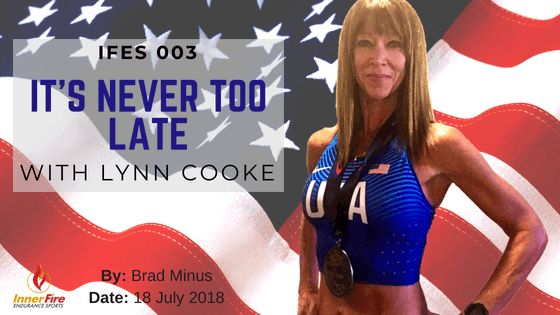 Episode: 00​3
Title: ​It's Never too Late with Lynn Cook
Final Show Link: https://innerfireendurance.com/ifes003
In this episode:
I had the honor and privilege to interview the Masters Track 1-mile Age Group American Record Holder, Susan "Lynn" Cooke*.
(*In the racing world she goes by her legal first name, Susan, but to the rest of us she will always be Lynn.)
Our conversation covers -
Getting kicked off the track team early in her life
Her professional life
How she started running and why
Her experience with her first half-marathon
Stepping onto the track the first time
Racing and injuries
A day in her life
The details on her record breaking performance
Her favorite tools
Lynn's Shout outs
She is extremely inspiring especially for anyone who thought it was too late to start running or any endurance journey.
(Note: I recorded this with a high end digital recorder. Unfortunately, it was so good it captured every reverberation from the office we used for the interview. I tried to correct it in post-production, but it is still not perfect. My apologies.)
​Subscribe to the Inner Fire Endurance Podcast:
Follow our Podcast
Join the Conversation
Question of the Week:
How did you start in your sport? If you haven't started why not?
Explore these Resources
Resources:
In this episode, we mentioned the following resources: