For a long time, it has been called the Granddaddy of all endurance events, the Ironman triathlon. A 2.4-mile swim, 112-mile bike and a 26.2-mile run done consecutively in the same day. Of course, nowadays, double, triple, and even deca Ironman distance triathlons are becoming more and more popular, as well as 24, 48 and even 72-hour mud and obstacle run challenges. If you are calling me crazy for doing my second Ironman, I can introduce you to at least a few people who do challenges that make Ironman look like a game of hopscotch. (Yes, Matt "UltraIronBeast" Dolitsky, you are one of those.)
This competition for me was a learning experience in overcoming obstacles, most of them mental. I did not PR, or even come close, but I now understand completely the quote, "The mind will quite 100 times before the body does."
Pre-Race
Pete Amedure, Kari Eichen, Kat Ward, Jamie Breibart and myself all decided to drive up Wednesday morning in order to get acclimated to the environment and eliminate and reasons for not being prepared for Saturday's race.  Pete, Kari and I were in my car and had a great time on the way up.  Of course, there was a stop at the Huddle House in Perry Florida where we ate and laughed to a point where I spaced out and left my phone, and didn't realize it until we were half-an-hour from Panama City Beach.  It didn't help that I was in the middle of contracts and had all my recruiters contacting me about interviews and new opportunities.   (I ended up remedying this by sending FedEx to the restaurant and delivering it to our hotel.  In the meantime, Google Voice was a tremendous help.)
We arrived at the Laketown Wharf complex where we stayed in a luxurious three bedroom, three bath condominium, with a beautiful view of the gulf.  I give this hotel/condo complex four stars.  It had everything needed including a nightly water and light show that rivals the Bellagio in Las Vegas.  Well, not really, but it was a fun amenity.  The condos all have a full kitchen, with dishes, glasses, silverware, pots and pans, coffee maker, and a full-size refrigerator.  Everything needed for the athlete, and spectathletes, to remove all those pressures of nutrition, and early morning breakfasts.  The area also has plenty of great restaurants for good eating as well.
Afterward, we walked the quarter mile to athlete check-in to receive our chip, bibs, bags, and swag.  I was a little disappointed in the swag this year.  Last year they gave out beautiful TYR transition backpacks, but this year it was a very inferior white backpack that looks like it will fall apart.  Jamie's actually did, so they gave her a replacement immediately.  The expo was about twice the size that it was last year, with a host of new vendors.  Verizon was displaying their goods, as they were the tracking sponsor this year, along with Newton, Fit2Run, a local bike shop and a bunch of the regulars.  Refuel was there, talking about Chocolate Milk, so I did create a video with them talking about the benefits of it.  I will share that link on Twitter when I receive it.  It should be good for a couple of laughs.
After that, we spent the next couple of days, taking in the aura of Ironman, preparing and eating.  Eating was a non-stop event for us.  I knew from experience that immense calories were going to be needed in order to be comfortable on the course, so I encouraged our team to keep eating as I did myself.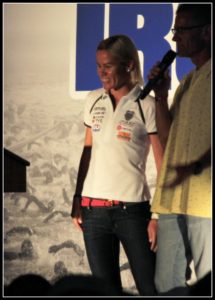 Thursday night was the athlete welcome dinner, and I was almost embarrassed.  My recollection of the 2011 athlete dinner was so wonderful, that I really talked it up and encouraged Pete, Jamie, and Kari to come.  Jamie decided not to go, but I was so excited for Pete and Kari to be there I couldn't contain my emotions.  Unfortunately, I was sort of let down.  It seemed unorganized and hurried.  Yes, my favorite pro-triathlete and world champion Mirinda Carfrae was interviewed on stage, so that was great, but the rest of it was about charities and a couple of athletes overcoming their own obstacles.  There were video presentations about a woman who was competing for her husband who died the year earlier while training, and a quadriplegic who was competing to show the world that anyone could do anything if they just challenged themselves.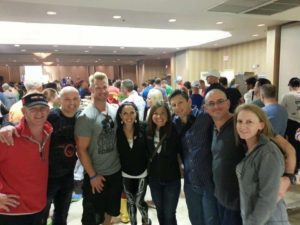 Yes, their stories were inspiring but I just felt like it was too much and way too long.  In 2011 the presentations were balanced between the negative and the positive inspiring stories and we even had an athlete briefing by the race director all in the span of 90 minutes.  It held the attention of every athlete to a point where the announcer almost didn't need the microphone.  This time, a good portion of the athletes conversed right through all the presentations to a point where it was hard to hear the MC with a microphone.  I felt like I let my friend Pete down to a point where I was apologizing so much on the walk back I became annoying.  Sorry, Pete and Kari.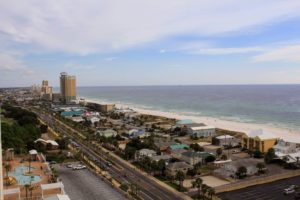 Friday, the anxiety hit like a ton of bricks.  You couldn't cut the tension in the condo with a Ginsu, serrated edge knife.  We ate breakfast and then headed down to the beach to get in the water with our wetsuits.  The waves sets were barreling to the shore with such force that the red, "no-swimming", flag was flown, but we knew we needed to at least get in the water for a few minutes just to test out our goggles and our wetsuits.  Surprising enough, even with the force of the waves, I thought I became a little more confident.  I was able to stay on the surface of the water, and I practiced duck diving through the waves instead of trying to swim over them.  I really thought I may have a chance of being faster out of the water than I thought.
Afterward, we talked through our transition plans to double check our gear,
checked to make sure our bikes were ready to go and proceeded to transition to check-in everything.  We had decided to try and wait out the rain, but unfortunately, I had a phone interview which had the chance of exceeding beyond the time check-in would close, so we walked down in the rain.  The line was so long, I was going to be cutting it very close, so afterward, I ran back to the hotel.  On the way back, I dropped my phone and cracked the screen.  Yes, I had the phone back in my hands all of two hours and I dropped it.  I have never broken a phone before,  ever,  and here I had two phone interviews and I cracked the screen.  I was lucky enough that the phone still worked with voice recognition and a little effort, so the two interviews scheduled went off without any problems and I confirmed them both for second interviews as well.
That night we had a good dinner at the Wicked Wheel and we were all in bed around 9 pm ready to take on the Ironman.
Race Day
As predicted, the night before was restless but I did end up sleeping a good 4-5 hours before the alarm went off.  As planned we dressed in sweats, grabbed our "Special Needs" bags,  nutrition for the bike, and headed to transition around 4:30 am.  We were body marked, checked our bikes, dropped our bags, and then headed back to try and leisurely eat breakfast, and dress for the race.  Kari cooked eggs and turkey bacon, I cooked oatmeal and we all hung out for a while and tried to prepare ourselves with our loved ones.  It was kind of surreal.  I remembered these moments from the first time I competed in this race, but it still seemed like it was all new again.
We dressed, pulled on our wetsuits halfway, hugged and headed for the start line.  We walked
with Kari, Kim, and Danny down to the start, but athletes had to enter separately than spectators, so when we finally hit the beach we couldn't find them.  I really wanted to see them all before the start, but I knew I would be ok if I didn't, but Kari had Pete's goggles in her bag, so now it became imperative that we find them.  We walked over trying to find them, so when it came to a point where we had no time left, we dropped our stuff and proceeded to button up our wetsuits and prepare to go under the arch.  It was at that moment, our party found us.  Talk about cutting it close.  We hugged, gut our well wishes, wished each other luck and headed into the mass of athletes preparing for the start.
This year was a little different as signs were being held up with expected times for the swim.  It could be compared to pace groups commonly found in road races except instead of going deep from a start line this went wide along the shore with the idea that if the slower swimmers would be the widest from the buoys and would fall in behind the faster ones.   This was thought to bring down the chaos of a mass swim start, but for me, it was worse.   I have been in comparable rough water,  hit, kicked and swam over before and I always kept on swimming no matter what, but this time I was kicked so many times with the last time throwing my goggles from my face.  It took me a few minutes to find them floating away from me, but I was able to put them back without too much trouble.
When I finished my first loop, the clock said 1:11 which was very slow.  I thought I should be able to make up at least three minutes on the second loop, so I shouldn't be in any danger of not making the 2:20 cutoff.  I found a rhythm and just kept swimming, but I veered to the left of buoys and to keep correcting my course.  When I made the turn for the straightaway to the swim finish,  I glanced at my wrist to check my Garmin to see how much time I had left, and it was gone.  Not only could I not find out what I needed to cross the swim finish, I wasn't going to know how fast I would bike, or run.  I wouldn't know when to take my nutrition or even what time it was.
Three buoys from the end I ended up with a paddle boarder on the left of me and jet ski on the right.  The paddleboarder kept yelling the time I had left.  "You have 8 minutes. You got this just keep going."  I have to admit, the idea of a DNF crossed my mind and it did not scare me.  I thought to myself "would it really be the end o the world."  I would be able to support Pete, Jamie, and Kat and I wouldn't have to worry about biking 112 miles, chafing, nutrition, none of it.  Of course, I wouldn't get to cross that finish line and I would feel like a failure and that is what really scared me.  It wasn't the disappointment of my friends or even my family, it was the disappointment I would have in myself.  That never-ending coulda, woulda, shoulda would really haunt me, so I sped up and went as hard as I could.  The waves after the sandbar helped and even though I got caught up in the rope tied to one of the lifeguard's flotation device I was able to hit the beach at exactly 2:20 getting me over the timing mat at 2:20:08.
I don't mind stating that I was exhausted.  I have stated it time and time again, that I am not even a good swimmer, but this really put it in perspective.
I ran into transition and the volunteers stated I had eight minutes to cross the bike mat, so they hurried me into my bib and jersey I was using for the bike, put on my helmet and shoes and rushed me out into transition to grab my bike.  I crossed and headed out on my 112-mile journey.
My lungs were screaming and my stomach was churning, but I just kept going.  I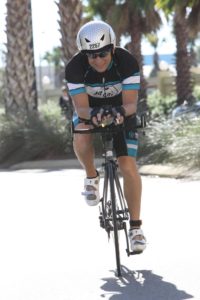 passed the mile 10 marker and about, what I estimate was around the 12-13 mile mark, nausea started.  I pulled over to the side of the road and vomited sea water over the guardrail.  Unfortunately, I have what is called a vasovagal response to vomiting, which basically means I pass out cold.  I woke up, splayed out on the side of the road with the sun shining in my eyes.  It took a while to get my wits and balance in order to get back on my bike.  I continued slowly with the thoughts of turning around and just ending it.  Who would blame me?  I became sick on the bike, no one would care.  With my stomach still churning and my head spinning I decided I would go to the twenty-mile marker and if I didn't feel better I would turn around.  The earlier thoughts I had of a DNF plagued me again and when I saw the 20-mile sign, I was still feeling sick, but better than I did.  I took in some of the Isagenix mix I had in my bottles and decided to go on to the next marker, but it wasn't more than a mile later I realized that if I turned around at the 30 mile mark, I would have biked 60 miles by the time I got back to the start.  That's when I knew I had it in me.  It no longer was about time now it was about finishing.
From that point on the bike ended up being uneventful.  Sure, there were minor challenges.  For instance, the wind picked up quite a bit, and of course, I still had no perception of time, except for when I asked, but I just put my head down and kept going.
Here is a little lesson learned while I was on the bike.  As I mentioned the wind became a challenge during the bike, but I decided to wear an aero helmet and while I was in aero position and looked down, the wind became a little less a factor.  I found myself being able to pick up a higher cadence.  The minute I looked straight I could not only hear the wind, but I felt like someone had hit the breaks on my bike.  Every article and person always said, one way and the cheapest way to become more aero was a helmet.  They were right.
Being the last one out of the water did have one advantage.  I wasn't going to get passed.  I was doing all the passing, and with each rider I passed, I felt a little bit of mental boost which helped a great deal.  I rolled into transition in a little over 7 hours, which, in my estimation, had me on the side of the road for a little over 30 minutes.  All-in-all it wasn't actually that bad.
A volunteer grabbed my bike, I snatched my run gear bag and was greeted in the changing room by my friend, and client, Hugo Scavino.  He helped me rid myself of the bib and bike jersey and don my shoes and hat.  After a huge hug, I headed off onto the run course.  I stopped briefly for words of encouragement, hugs and kisses from Kim, Kari, Maria and Anne, and off onto the course I went.  I walked for about a quarter mile before I started running.  I was kind of amazed.  I felt like I was able to transition to my running legs a little easier than the Augusta 70.3 I competed in six weeks earlier.  I hit the first aid station in about 1.5 miles and I was feeling pretty good.  I formulated my plan of running from aid station to aid station and just walking while I was getting water and nutrition.  This worked for the first loop.
Pete and Jaime passed me at my mile 3 and their mile 10 and we shook hands and I motivated Pete with warning him I should not be able to catch him.  Of course in the back of my mind, I was questioning if I could somehow make up 7 miles on him.  Dave Nardoski caught up with me on his second loop, so I walked and chatted with him for a few minutes before I picked up the pace again.  At mile 6 I saw Kat looking really strong and I yelled some encouragement to her as I passed.  The halfway point for the first loop is in a park and I was feeling pretty good.  I started doing the math in my head for what it would take to catch up to Pete and Jamie.  The idea of the three of crossing together seemed surreal but possibly realistic.  At mile 10 I saw Jamie and she had picked up the pace from Pete, and she looked really good.  Obviously, the three of us crossing was most likely not going to happen unless I could really pick up some speed and Pete and I could catch her.  A little while later I saw Pete again walking.  We stopped for a minute and he told me that everything hurt.  I gave him some encouragement and we parted.  Just prior to the turnaround I found myself running next to Lew Hollander.  Lew, is an 83-year-old, twenty-time Kona qualifier and finisher.  He is extremely inspiring and is the epitome of the idea that age doesn't have to be an excuse.  We chatted briefly, he gave me some motivation, I congratulated him, he ran into the finisher chute and I made the turn.  Kim and Danny were on the other side of the turn, so I was able to see them and get some love and hugs from Kim.  She actually ran a little bit with me before I headed off.
I was hurting now.  At mile 14 I slowed to a walk.  My feet were screaming in agony, my hips, quads, hamstrings and IT bands were in a lot of pain and I started getting a twinge in my back.  I didn't want to walk, but my legs were not letting me run either.  I decided I would walk to the aid station of after mile 15 and continue from there.  It didn't happen the way I wanted.   I ended up doing a series of run/walk intervals all the way to mile 18 where Pete and I crossed for the last time.  We high-fived each other and continued on.  Not too far ahead I stopped to use a portlet, but when I exited I became turned around and stupidly started running in the wrong direction.  I caught myself about a half mile before I realized what I was doing and quickly did a one-eighty.  I guess I was meant to run even more than a marathon this time.
I did meet Susan, a member of the Sarasota Storm Tri Club, which I have participated in races and training with.  We chatted and played cat and mouse for a while.  Susan had a very steady pace, so I would catch her and then when I would walk she would pass me.  This happened about 3 or 4 times throughout the marathon portion.  After getting completing the out-and-back in the park to head to the finish I started to feel like I just was about done with this whole thing.  I was walking more than running, I was in pain and I was just ready for this experience to end.  When I saw mile 20, I thought I only have a 10k left.  I could do a 10k in my sleep.  I started to pick up the pace just a bit.  I walked through the aid station in between 20 and 21 and started talking to myself.  "C'mon legs.  Just one more training run.  I need ya.  Relax.  Use gravity as momentum.  We can do this."
Ahead was mile marker 21, and it was then when I decided, there will be no more stops at aid stations, there will be no more walking.  It was time to get this done.  I picked up the pace and never looked back.  I caught up with Susan at mile 22 and I told her to come with me.  This was just a 5k with a one-mile warm-up.  She said something that really motivated me.  "You are really strong, Brad."  Who was she trying to kid?  It wasn't 12 hours ago I had thoughts of quitting.  I didn't quit though and here I was 4 miles from the finish of my second Ironman.  I picked up the pace even more to a point where I was running at a sub 8:30 pace for a bit.  I was in a lot of pain, but it was going to be worse if I stopped.  Every time I passed another athlete or spectator they would say "Good job" and that just fueled me.  A couple of the spectators would yell, "Awesome pace keep it up!"  I ran through the Tri Club village at 25 when someone yelled "Go Goof GO!", so I even picked up the pace even more.  When I finally reached the chute there were two people running together in front of me and I didn't know whether to let them go ahead or pass them.  I passed them and sped up even more in order to make sure I was alone at the finish line.
I saw the finish line and didn't even look at the clock.  After all, I hadn't known what time it was up to that point, so what did it matter now.  The announcer bellowed, "Brad Minus from Tampa Bay, YOU ARE AN IRONMAN!"  Oh, how sweet that sounded.  Especially after being kicked, and hit in the water, losing my goggles and Garmin, vomiting and blacking out on the side of the road, and running through all that pain.  I finally reached the finish.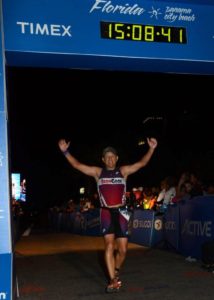 A volunteer escorted me to Yvonne Van Vlerken, the women's first-place finisher, who placed the medal around my neck.  We congratulated each other and she gave me a hug, and then I continued with my handler to get a shiny warming sheath, and a finish photo before she handed me off to Kim, Maria, Jamie and the Dannys.  I saw Pete sitting down and we just looked at each other with pain on our faces but pride in our eyes.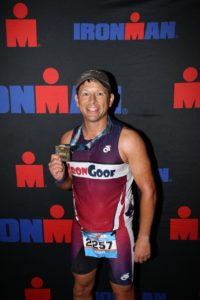 The rest of the night consisted of pizza and hard cider and regaling stories of the race.  PB&J had accomplished what we set out to do a year earlier.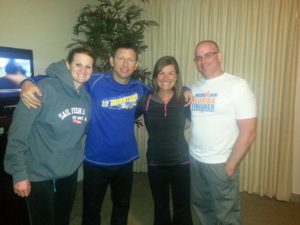 Jamie was the heroine of the night.  When she decided to run she end up fast enough to finish with a 13:50.  I am still so proud of her.  Pete ended up a little under 15 and I ended up with a 15:09.  I am not happy with it.  It is significantly longer than 2011, but I finished and everything considered, I did have fun.  That is what matters most.
Thank you to all who tracked and reported on Facebook, for all the prayers, thoughts, motivation and kudos, Anne, Kari, Maria, Hugo and all the other voluneteers, Kim for supporting me and especially to Pete, Jamie, & Kat for being my training buddies through this journey.
Carpe Viam!