Happy Hump Day!  Workout Wednesday's will consist of favorite workout of mine that I either have prescribed to my clients or have been assigned by MY Coach.  It might also be a favorite of yours.  Feel free to send me any workouts you like.   There will be an objective for every workout for specificity.
Run Strength – Hill Repeats
I am not a huge fan of weights or being in the gym.  As the summer wore on and Florida continued to increase in heat I found myself spending more and more time in the gym and on the treadmill, but I still prefer to be outside.  This workout will work leg strength as a replacement for a gym resistance workout or a supplement to.  It can be done either on the Treadmill or outside with a hill that takes 2-3 minutes to run up, or here in Florida we use parking garages.
WU (Warm-up): Run Drills & Dynamic Stretching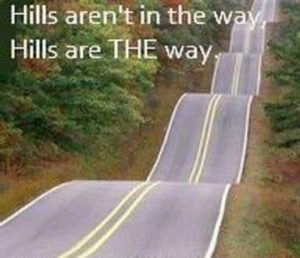 1-2 miles @ conversational pace
MS (Main Set):
Hill Bounders on uphill
Recover for 30 sec – 2 minutes
Speed over strides on Downhill
Repeat for up to 30 minutes
CD (Cool Down): 1-2 miles @ conversational pace
Lunges & Static Stretches
Objective: Leg strength, Aerobic capacity, Form Development & Confidence on Hills
Rate of Perceived Exertion (RPE): 5-7 on the uphills (Talking should be very difficult)
Description: Run a hilly course.  Do not try to run fast on the uphills but rather concentrate on a good knee lift, strong arm swing, uplifted chest and full push-off extension in your back leg. Practice running efficiently on the downhills with high turnover and enough of a forward lean that your front leg lands directly under you.
Hill Bounders:  go up the hill with a bouncy action and a good posture, concentrating on a good knee lift and arm swing with a "snap" with your ankle. You should be thinking Spring up the hill.  Jog until recovered at the top.
Speed Over striders: Run down the hill with out breaking but increasing your cadence with the steepness of the hill.  Instead of completely striding out elongating your stride, focus on increasing your cadence with a normal stride.
Biggest Mistakes: Running too fast up the hill rather than concentrating on form.  Running too hard up the hill and getting into too much oxygen debt. This is not desirable in this phase  .Putting more stress on the legs than they are ready for with too much bounding or downhill running and getting injured.  Precipitating your peak with repeated speed bursts. Some people tend to develop speed very quickly once they start doing the hill circuit. If this is the case, go very easy with downhill striding and on the stride-outs. You'll still have plenty of time to develop speed to maximum. Premature speed development would only lead to premature peaking and this should be avoided.
Warning: The first week of hill training is one of the times where injury is most likely to occur. This is a very demanding exercise, so be overly cautious and feel your way gradually.  After about 2 weeks in this phase your legs could feel very tired and you may feel you're actually slower. This is normal and will pass within a couple of weeks of consistently completing the workout.
I hope you enjoy this one. I know I do.
What kind of workout do you do for run strength?
Carpe Vitam!