It has been a while since I have been able to put together a Tribute Tuesday post and this weeks tribute is someone I am truly honored and excited to write about.  Katrina Pilkington, known by most people as Kat, has a heart that is rare by most standards.  While she enjoys being healthy and partaking in fitness challenges and goals, she always…and I mean always, finds ways to help others reach their goals in the process.
To tell you the truth I have no idea how she does it.  Katrina Pilkington is a woman who a few years ago decided to shed over 40 pounds for herself (see her story) and in doing so created a new energetic voice in the community and the blogosphere directed totally at those who want to become more healthy, more fit, and share ideas on how to go about it.
With only starting to run seriously just a couple of years ago, Katrina Pilkington, over the past nine months has completed her own challenge of 6 half-marathons in 6 months, attained her Certified Personal Trainer, has blogged about some new idea, product, person or technique every single day, holds a full-time job and is very active with her newlywed husband.  Sarah Jessica Parker in "I Don't Know How She Does It" has nothing on Mrs. Katrina Pilkington.  She is truly amazing.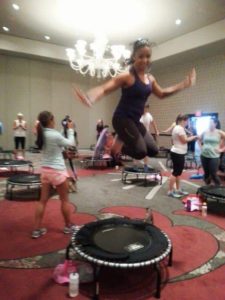 She doesn't know it yet (well, she will now), but she is an inspiration to me.  If it wasn't for her example, Inner Fire probably would not be around today.  Kat showed me it was possible to get a message out that would inspire, motivate and be fun to write.  She also set an example on that there are plenty of topics out there to be expressed each and every day.
You don't have to take my word for it, take hers in my interview below:
Interview:
Name: Katrina Pilkington or Kat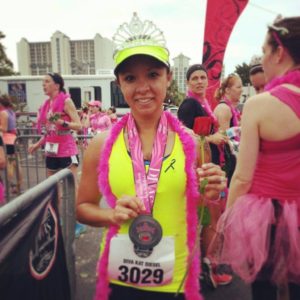 Birthdate/Sign: December 10 – Sagittarius all the way
Place of Birth: Clearwater, Florida
Place growing up: Clearwater, Florida
High School: Pinellas Park High
High School sports: None – I had my head in the books
College: Tampa Technical Institute
College Sports: Nope
Other Sports: Never did any until I grew up!
I have linked to your "my story page" above so everyone can read your amazing story, but can you tell us what was the major turning point that started your fitness journey?
I'd struggled with binge dieting off and on and depended on quick fixes only to regain the weight back each time I stopped. I decided once and for all that I wanted to be the healthiest I've ever been and the fittest I've ever been once I turned 30 and have since worked to help others learn to live a healthy life the right way through the right methods.
If you could give me one adjective to describe the feeling you get when you are working out what would it be?
Powerful
When and why did you start running?
I started running and did 5ks and smaller races back in 2007.
What is one thing you love most about competing in road races?
I love the sense of accomplishment. I've done races and distances I never thought my body could take me through and hadn't planned on it. Having asthma that kept me from playing sports when I was younger definitely motivates me to keep going and seeing how capable I really am.
Following your twitter, facebook, and blog, we know that you just past the NASM-CPT exam.  What do you plan to do with it?
I wanted to learn about fitness in more depth on my own and to teach others what I'd learned through my blog and in person. I'd love to start teaching boot camps and learn more skills to do more with others.
We all have those days when we just do not feel like training.  What do you do to get past that feeling and get on with your workout?
I am super structured and as long as I have a training plan in my face, I get up. Having to turn off the alarm and sit up and go. Only one rest day a week is required for me and the only other time I rest is if I'm sick. My workout will get me through the rest of the day better than anything else could.
What would you say is your greatest obstacle you ever overcame?
Running 6 half marathons in 6 months all around 2:10 while working to increase my lung capacity through having allergen-induced asthma (went from 74% – the lungs of someone in their 60s or 70s – to now 88%)
What is your greatest victory?
Those races – and now training for my first full marathon!
What are your favorite quotes?
"Love yourself and be awake, today, tomorrow, always"
~ Buddha (tattooed on my left, upper, inner arm as a daily reminder)