Unfortunately, the triathlon season started on a tragic note this past weekend at the Escape from Alcatraz Triathlon. Not long after diving into the frigid 50-degree waters of the San Francisco Bay, 46-year-old Ross Ehlinger, from Austin, Texas, suffered a fatal heart attack despite the heroic attempts made by the San Francisco EMS.
Unfortunately, Ehilnger was not the first to die of heart problems in the open water swim portion of the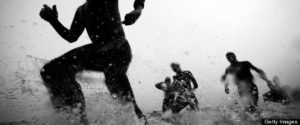 triathlon. Deaths have been on the increase in triathlons and the vast majority of them occurring during the open water swim leg. This post is not intended to scare into never swimming in open water or ever competing in triathlons, but provide information about the precautions to prevent these types of accidents from occurring.
1. Check yourself: If there is knowledge of health and/or heart problems or genetic predisposition to cardiac irregularities, get cleared by a physician before starting a training program and then again before racing.  An EKG(Electrocardiogram) will depict any irregularities that may be cause for concern.
2. 
Warm up
: Enter the water before the start to acclimate to the water
 temperature. If it is not an option, do 
jumping jacks, push-ups or jump squats to get the blood pumping. 
3.
Prior Wetsuit Swimming
: If this is the initial open swim in a wetsuit, make sure to get some
experience swimming in it to understand its somewhat constricting feel. Even a few laps in the pool helps.
4. Practice in open water: Open water swimming is very different from swimming in a pool and can be quite frightening  It is therefore important to get some experience in open water; it might help unburden the uneasiness and nerves. Make sure to swim with others and there is a lifeguard nearby.
5. Work on the mental game prior to the next open water triathlon. There are a lot of things people tend to stress about, but with a little mental preparation, most situations that appear will not come as a surprise and can be dealt with.
These are a few small details I have gathered from Kevin Koskella,
Tri Swim Coach
, which are mostly common sense, at least to most triathletes, but if it can help one athlete be more prepared, I will quote Kevin and every other swim coach until my fingers fall off. (Then I'll use my toes, and then my tongue.)
There have been deaths surrounding not just triathlon, but marathons and other endurance races as well.  In my opinion it comes to preparedness.  Evaluating skill, fitness and injury should take president over our 'Go Hard or Go Home' attitude.
Of course after the evaluation is complete and the fear of finishing has been quelled, 'GHGH' is  a great mind frame.
"Just don't DO IT…Do It RIGHT!" 
Carpe Viam!