I can hear it now…."Know wonder they call you a Goof…you are crazy.", "So, if I run slower I will get faster? You are out of your mind." It was not to long ago I used to think the same thing, but as with everything I post, there are reasons and science to back it up.
Let's face it, logic would dictate that pushing the pace of your easy days, as close to race pace as possible, would help you get fit faster and help you speed up, right? A lot of coaches, including myself, will tell you to run slow on your easy days, and easy days should be making up anywhere from 50-75% of your weekly mileage.
I have clients continuously asking me, "why are my easy days so slow?" The latest is my famous sit downs with my runners telling them to slow down after examining their data and finding them running tempo speeds during an easy day.
The answer to the question is what Arthur Lydiard and most other coaches would call the aerobic system. The aerobic system, or aerobic development, is the one of the most important fundamentals into unlocking your true potential.
Let us first check the stats on the energy contribution the aerobic system provides for races. As you can in the chart below, even the shorter events like the mile, over 80% of the energy required to run the race is produced via the aerobic system.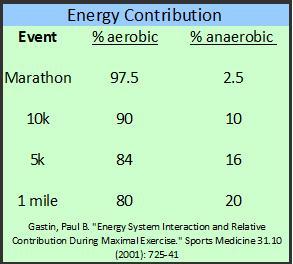 Aerobic System? What is it?
Aerobic training is the scientific fact that to move your body at higher intensities, the body needs to break down sugar and convert it to glycogen so it can be used as energy.
The aerobic system plus oxygen starts a chemical reaction known as Aerobic Glycolysis which continuously powers continuous endurance activities. In the aerobic system energy ATP is produced through Pyruvic Acid and Lipid/Protein fragments entering the Kreb Cycle and the Electron Transport Cycle.
Uh…what?
During aerobic respiration (yeah, that's breathing) the body uses all the oxygen it needs to power the muscles. When you are running in your "aerobic zones" (easy runs), your muscles have enough oxygen to produce all the energy they need to perform.
See? Improving your capacity to transport and efficiently use all the available oxygen to produce energy will enable you to race faster since this makes up 85-99% of the energy needed to race.
Since running easy is aerobic development, what better way is there to train the aerobic system? There is none.
What goes on in the body during aerobic development?
Capillary development – capillaries are the smallest of the body's blood vessels and they help deliver oxygen and nutrients to the muscle tissues while exporting waste products out. The larger the number of capillaries you have surrounding each muscle fiber, the faster you can transport oxygen and carbohydrates to your muscles.
Aerobic training (easy running) increases the number of capillaries per muscle fiber, thus improving how efficiently you can deliver oxygen and fuel to your working muscles and how quickly they can clear waste products.
Myoglobin Increase
Myoglobin is a protein in the muscles that binds the oxygen that enters the muscle fiber. When oxygen becomes limited during intense exercise, myoglobin releases oxygen to the mitochondria to produce more energy.
The more myoglobin you have in the fibers of your muscles, the more oxygen is transported under aerobic stress. Like, uh, during a race. Aerobic training increases the amount of myoglobin you have in your muscle fibers.
Mitochondria creation
Mitochondria are microscopic organelle found in your muscles cells that contribute to the production of ATP (energy). In the presence of oxygen, mitochondria breakdown carbohydrate, fat, and protein into usable energy.
Therefore, the more mitochondria you have, and the greater their density, the more energy you can generate during exercise, which will enable you to run faster and longer.
Aerobic training increases both the number and the size of the mitochondria in your muscle fibers.
Suffice it to say that aerobic development is the single most important factor to long-term development.
Of course, track workouts, VO2 max sessions, tempo runs and cross training will increase your fitness and are still incredibly important to racing faster. However, nothing will help improve continuously like developing the aerobic system.
Aerobic development is dependent upon running in your aerobic zones (for my runners Zones 1-3). This is why running faster on your easy days develop the aerobic system. Once you step out of those aerobic zones, on easy runs you diminish development of your aerobic system, but you also increase the chance for injury. Nope, two negatives do not make a positive in running.
This is one of the single biggest mistakes runners of all experiences make in their training.
As a coach and trainer I have always distinguished myself because I am always able to give my clients and readers the "why". (Sometimes my clients end up telling me to just shut my mouth. when I am training with them because I am continuously telling them why they are doing each movement of an exercise or workout. I guess it may not be an advantage all the time. Go figure.)
Optimal Aerobic Development
Scientific research has been able to identify how the aerobic system adapts and responds to certain training paces. Physiologically we know:
Capillary development appears to peak at between 60 and 75 percent of 5k pace.
Maximum stimulation of myoglobin in Type I muscle fiber (Endurance Muscles) occurs at about 63-77 percent of VO2max. 63-77 percent of VO2max is about 55-75 percent of 5k pace.
Two researchers, Holloszy (1967) and Dudley (1982) published some of the defining research on optimal distance and pace for mitochondrial development. In short, Holloszy found that maximum mitochondrial development when running at 50-75 percent of V02 max. Likewise, Dudley found that the best strategy for slow-twitch, mitochondria enhancement was running for 90 minutes per outing at 70 to 75 per cent V02 max.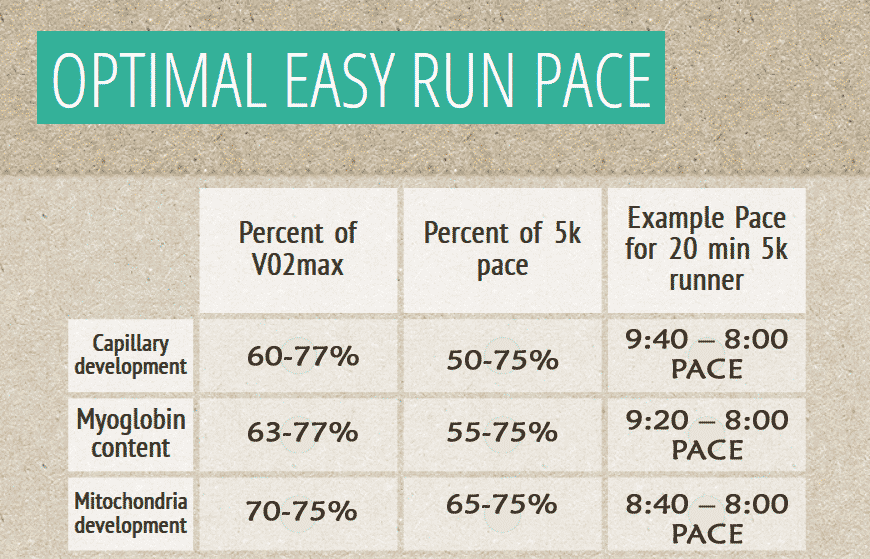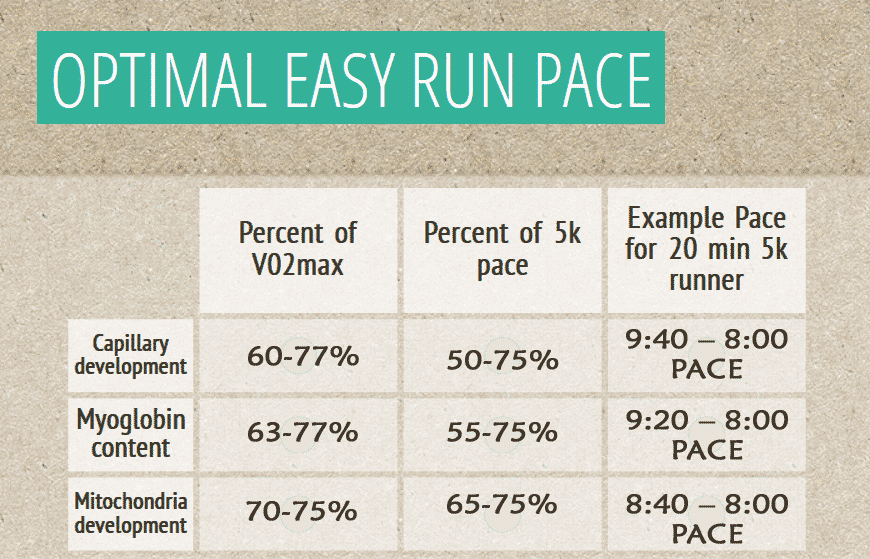 It is pretty clear now right? Your optimal easy run pace for aerobic development is between 55 and 75 percent of your 5k pace, with the average pace being about 65 percent.
It's also evident that running faster than 75% of your 5k pace on your long run has very little additional physiological benefit.
In fact, the research indicates that it would be just as advantageous to run slower as it would be to run faster. Running around half of your 5k pace is pretty easy right? Wouldn't you know it, the evidence is clear that it still provides near optimal aerobic development.
Feel free to let me hear your feedback. I welcome any other case studies, personal experiences and other research as I am always learning. I provide you with the best content I can, but I have an open-mind and know that there may be other research out there that may negate information I post.
Carpe Vitam!
~IronGoof