I have been a fan of the Altra line for a little while now, so I was so honored to be given a chance to review the brand new Altra Torin 2.  I reviewed the 1.5 version when it first arrived, and it became my shoe of choice for long runs.
What I love about the Torin 2
Zero Drop
One of Altra's significant differences in the complete line of shoes is their zero heel drop and since my coaching methodology includes an emphasis on our body's natural movement while running this is obviously one of my favorites. (I have included a explanation of what "Zero Drop" means in my previous Altra Torin 1.5 review.)
Wide Toe Box
The other difference between Altra and their competition is the wide toe box, or as Altra calls it, a "FootShape" toe box.  The ability to splay the toes plays a significant role in injury prevention and the strength of the feet.  This allows the runners body to support itself, rather tan relying on a shoe for support.
Upper
The upper has been improved in the 2.0.  The Torin 1.5 was made with a thick upper which added unnecessary weight and reduced flexibility of the shoe.  The 2.0 has been upgraded with a much thinner mesh material that breathes better and allows for more flexibility.
 Outsole
Here is where some of my favorite changes were made.  First, they moved from the heavier EVA to their lighter proprietary "A-bound" material that for me seems to add a little more spring to the ride of the shoe.  When my foot strikes the ground the material seems to not only protect from the natural impact, but reacts driving me forward.
The weight in the previous show was 10.1 ounces which was up from the original Torin which was 9.5 ounces.  The Torin 2 comes in at 9.1 ounces which is one of the lightest in this category, if not the very lightest.
Midsole
Altra added what they call Innerflex which are groves in the outsole and midsole that bend with your foot allowing substantially more flexibility than the previous models.  This too me was the single most important change they made.  The Torin has always classified as their High Cushioned shoe which most companies have traded flexibility for cushion.  Altra has found a way to give runners the flexibility I love with the cushioning I want and without giving up any of proprioception.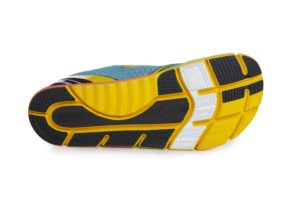 The have now included a Foot Pod technology which maps the bones of the foot with the Innerflex so the shoes flexes where the runner needs it to, allowing a near customized fit.
Removed
Altra went ahead and removed the toe guard and heel rudder as well.  In my opinion this not only allowed them to shed some weight, but also added to flexibility and comfort.  In a road shoe I never really thought either added any value.  These two advantages are best left for trail specific designs.
What I don't like about the Torin 2
Obviously, not much.
The new Abound foam tends to soak in water and sweat which makes the shoe feel a little heavier during training and racing.  Even with the mesh material the shoe does not seem to drain well.  I would love to see a version of this shoe with drain holes, but of course that is the triathlete in me talking.
After about forty miles the new Abound material started to squeak while just walking ,and only in my left shoe  This does not seem to happen when I run in them, but it is a little noisy when walking through the store.  I think it may be just a problem with this pair, but nonetheless it is something I dislike.  However, it did not change the performance of the shoe.
The price of $125 is a little high in my opinion.  A better price point would be the $100 – $110, but of course that is very minor for shoe of this quality.
Let's see how the Torin 2 ranked on my scale:
Quality – 4/5
Upper  – 4/5
Outsole – 4/5
Flexibility – 5/5
Comfort – 5/5
Appearance – 4/5
Cost – 3/5
Overall – 4/5
The Altra Torin 2 is available in men's whole and half sizes 7-12.5, whole sizes 13-15 and in three color patterns.  It is available in women's whole and half sizes 5-10.5, whole sizes 11-12 and in three separate color patterns.
Have you ever ran in a pair of Altra Torins (any version)?  How did you like them?
Please feel free to comment on your feedback.