The quest for the best running shoe can be daunting, but the search for the best zero drop running shoes can be downright frustrating.  The majority of all the Altra Zero Drop reviews I personally have read, the consensus is pretty positive, and in this instance, it will be no different, because in my opinion, it has resolved my issue of finding the best zero drop shoe on the market.  The Altra Torin 1.5.
What is Zero Drop?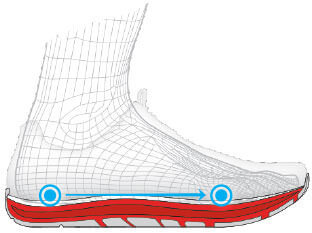 Outsole

The outsole has not changed from the original Torin, but that is something I personally liked.  There is enough cushion in the sole for protection without losing the feel for the road or trail underneath.

The ride of this shoe is extremely comfortable.  Of course, this is why I enjoy the Altra line in the first place.  The ride is smooth with great responsiveness on the road.

The interesting part of the shoe is the weight.  When upgrading a shoe from an original version, the thought would be that the weight could be dropped, but in the new Torin 1.5 has an extra ounce added.  The shoes weigh 10.5 ounces versus the original Torins at 9.5 ounces.

The flexibility has not changed either.  The Altra Torin or the Torin 1.5 are not the most flexible of shoes, but they do have enough flexibility to give a good lever and lift from the ground.  I am chalking the lack of flexibility to the design of the shoe being for the road and not the trail.  Trail shoes should have a little more flexibility for the technical terrain.
Appearance
I do like the color of these versus the originals.  The blue and orange weren't bad, but they went a little more conservative with the grey, yellow and black.  This is obviously a personal choice on the runner, but I thought I would put my two sense in.
The cost is a little more expensive at $120 dollars, but the shoes seem to last over 400 miles which most shoes will only last 250 to 300 before losing the cushion and ride comfort.
My Impressions:
Quality – 4/5
Upper-4/5
Outsole – 4/5
Flexibility – 3/5
Comfort – 4/5
Appearance – 4/5
Cost – 3/5
Have you tried the Altra Torin or the Altra Torin 1.5?  Have you run in any of the Altra lines of shoes?  What do you think?  Please let me know in the comments below.