Leading up to the Chicago Marathon 2016
The Chicago Marathon provides an excellent course, plenty of support and, for me, a chance to visit home for a few days.  It was no different for me this time, with one small factor.  I was not nearly as trained for it as I should have been.
In my previous recap for Ironman Augusta 70.3, I detailed a very painful half-marathon run.  It left me deeply concerned running the Chicago Marathon.  The focus for the following two weeks was on recovery.  My runs were limited to the Zero-to-5k course I coach at Tampa General Hospital which came to a total of eight miles.
Meanwhile, I completed a thirty-minute session with the foam roller and dynamic stretching, coupled with at least one twenty-minute session with an Electronic Muscle Stimulation machine from Therapeutix.  I followed this routine almost every day.
Even with the focus on recovery, I still had issues with my calves and Achilles tendons in both legs. My concern for finishing the Chicago Marathon did not change as I stepped off the plane on Friday, October 7th.
Pre-Race
I visited with my parents in Bartlett, a suburb located about 20 miles west of downtown Chicago, on Friday.  Saturday, I utilized the local train system, Metra, for transportation into the loop where I checked into the Kimpton Allegro Hotel and made my way to meet up with friends before heading to the expo.
Pete, Kari, Maria, Danny and I had a bountiful breakfast at a local diner and proceeded to grab a couple of cabs to the McCormick Place Convention Center for the expo.
I am always amazed at the smooth flow that is set up for the Chicago Marathon.  I stepped up to a table where they scanned the QR code that was emailed to me.  All of my information promptly displayed on a monitor.  After verifying the info was correct, a booth number appeared and a volunteer directed me to that specific location.
Even though the area was mobbed by runners, loved ones, volunteers and staff, I was able to quickly make my way to the booth where the volunteer already had my packet waiting for me.  She verified my identity with my driver's license and directed me to the main hall where I fought the crowd to the back. Within a couple of minutes, my gear bag and t-shirt were in my hands.
The Expo
With the requirement for check-in complete, I was free to wander around the expo.  The Chicago Marathon expo is always a highlight for me.  It is by far one of the biggest expos I attend with a plethora of vendors and products.
The nagging calf and Achilles tendon still had me worried. I risked breaking one of the number one rules for big races.  Never anything new on race day.
Hoka One One claims performance and high cushion without sacrificing proprioception.  As one of the first on the east coast to review Hoka One One a few years ago, I felt their technology may aid my finish the following day.
Other reviews led me to the Clayton.  The middle line of their cushioning but extremely light.  Slipping my foot into the shoe, and immediately the feeling the wider toe box and soft EVA foam positively indicated this approach was the right decision.
I palled around with my friends for a while, before I noticed the time. It was 1:00 PM, which meant the Ironman World Championships had already started.  I excused myself and headed to the hotel. I spent the rest of the afternoon, with my EMS machine and tablet watching the race in Kona.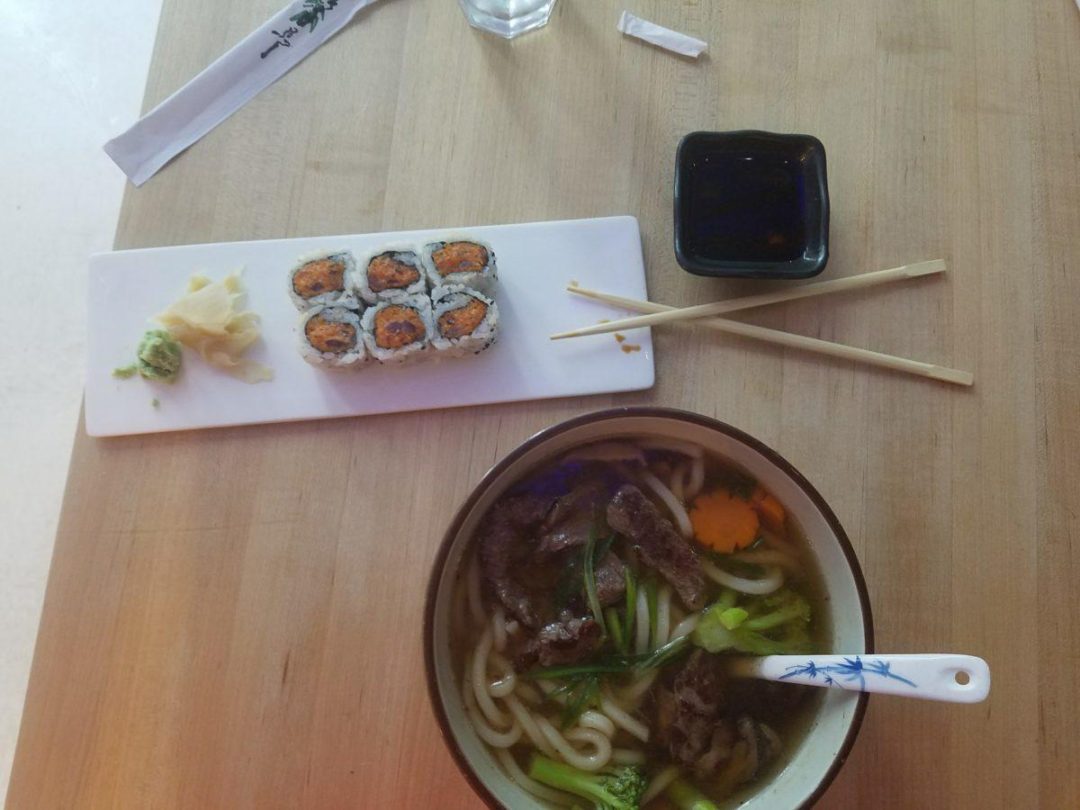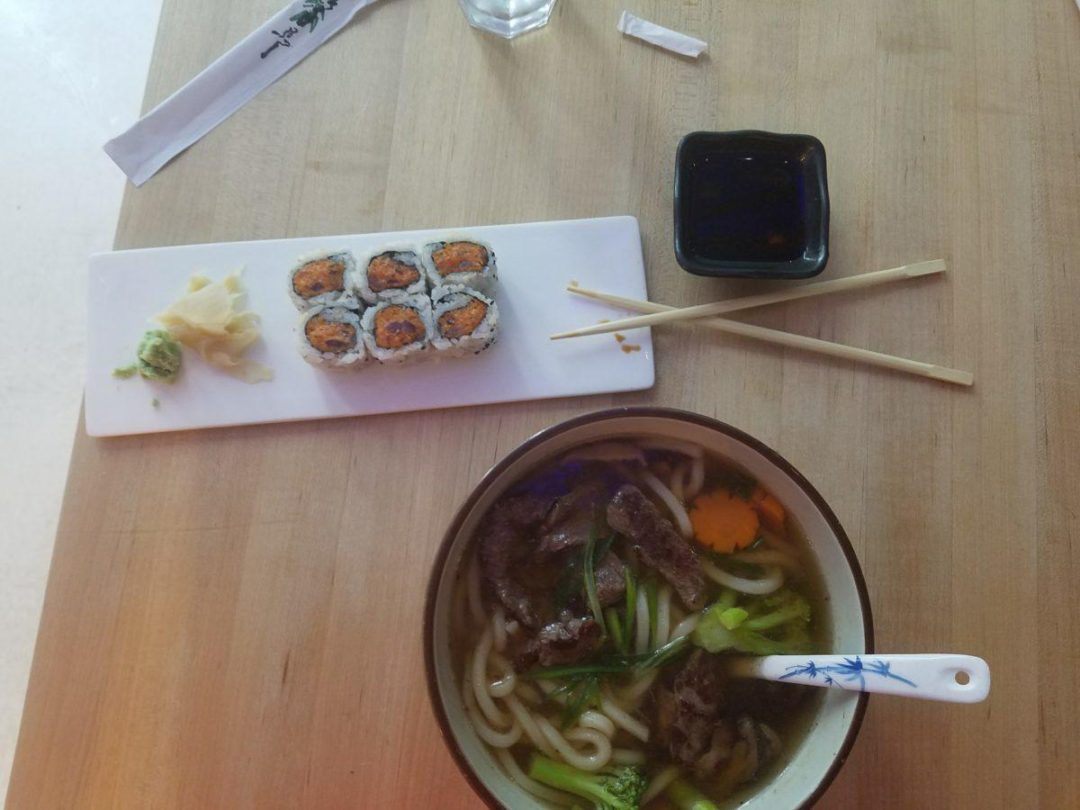 Later, I met up with Pete and the gang at Ryo Sushi.  Dinner was a great combination of carbs, good fats, protein and extra sodium hidden in a spicy tuna roll and beef udon.  After the hugs for luck and "good nights" it was a quick walk back to the hotel, a gear check followed by some light reading before entering dreamland.
Race Morning
The next morning, I awoke refreshed and ready to face the day.  Anxiety plagued my core as it usually does prior to a big race. However, this time it was heightened slightly with worry due to my lack of volume, and the tightness in my lower legs.
My consumption of oatmeal and a power bar settled the hunger pains, as I dressed in my T2PKD singlet, shorts, socks, new Hoka One One Claytons and my Moxie Multisport hat.  The temperature, estimated at 54 degrees, encouraged my purchase of a very inexpensive hoody and sweatpants which would keep me warm prior to the race.
All of the major marathons collect discarded clothes after the race and donate them to the homeless.  After I shedded mine, these clothes would have a good home.
With that, I headed to the lobby, where after grabbing a cup of coffee and a banana, I took the 20-minute walk to Grant Park and the "E" Corral.
Right around 7 am I entered my official Chicago Marathon corral.  After 30 minutes of chatting up some runners from the Ronald McDonald House Team, and an operatic version of our national anthem, the gun went off.  It took 14 minutes to reach the start line, and we all began our 26.2 mile journey.
The Strategy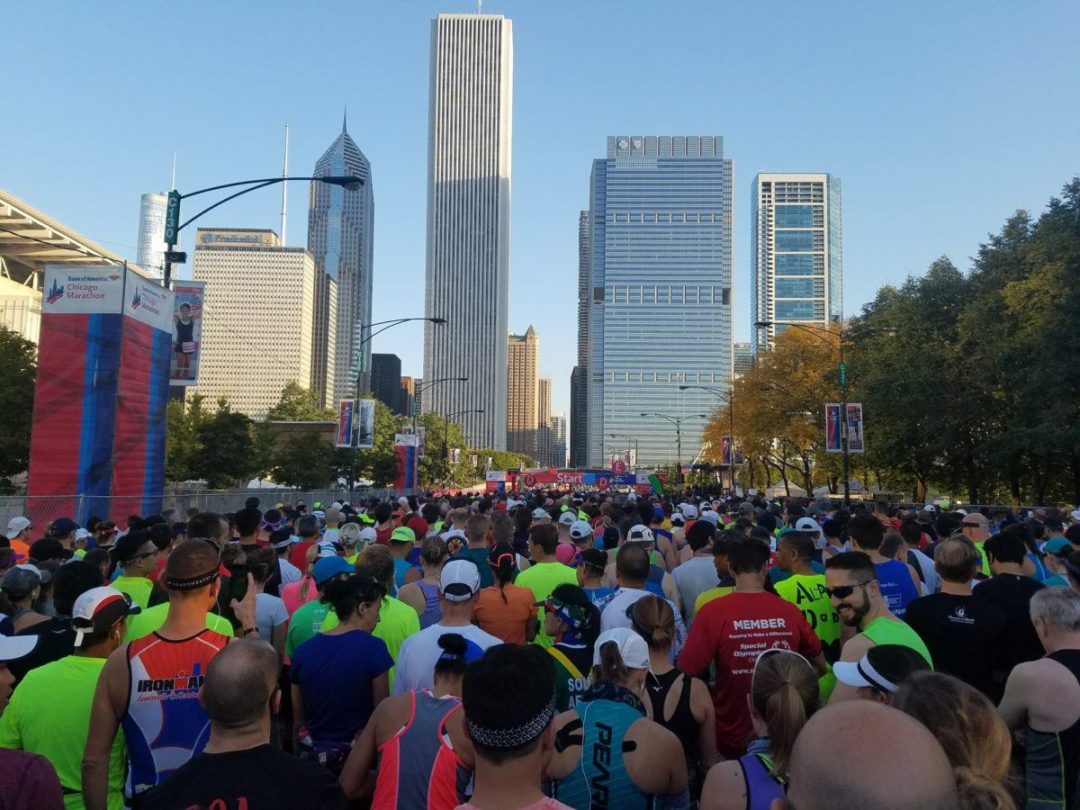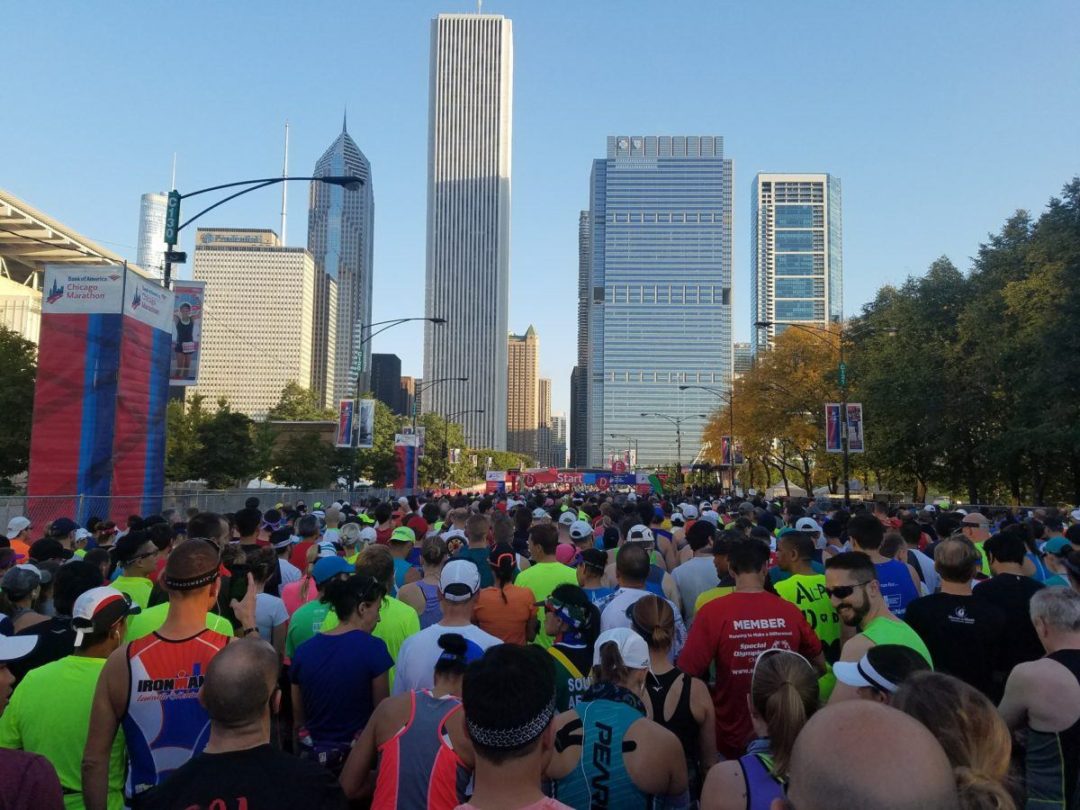 With all my concerns, I did not start the race without a strategy.  Even though I kept hearing Coach Jon in my head telling me, that there was nothing to worry about, and that I had enough experience in my legs to finish the marathon, I still didn't want to go in strictly by feel.
Using past data, temperature, results and a bit of feel, I put together a simple strategy of allowing my legs to do what they wanted in combination with brisk walking through the aid stations.  I told myself that no matter what I would walk every water stop from the first flag to the last flag and then run again.  Therefore, looking at the pace on my watch would not be positive.  I would check very infrequently the total time, but otherwise, I would use the clocks on the mile markers to figure out my timing.
This Chicago Marathon strategy also included a return to my "Happy Place".  The past few months had been a draining journey of mixed paces, disappointments and workout failures that deprived me of everything I loved about running.  I needed a win, but more so I needed that peaceful euphoria that kept luring me back to this sport I loved.  That feeling of freedom that I continually coach in my students and clients.
In The Beginning
The first mile was a little faster than I intended, so I slowed down a bit for fear of hitting the wall way too early.  Passing my mile 3 I realized that even with walking twice I was running slightly faster than a 9-minute mile.  This revelation amazed me.  I truly anticipated more of a ten to an eleven-minute mile, being as I did not have the training volume. To be running so easily at this speed, was a confidence booster, to say the least.
Everything seemed to be rolling along just fine.  For the majority of the race, I was listening to a custom station on Slacker radio, calculating times, chatting with runners and just enjoying the familiar sights.
My times consistently were 9-minute miles, so I decided to modify my strategy to include just that.  The test would be what would my half marathon time be.  The voice inside me kept insisting I had at least a half marathon in me.  However, the test would be afterward.  In the meantime, I needed validation that I could sustain this strategy for at least half the race.
Halfway
At the 13-mile mark, my the clock read 2:08. Of course, I started 14 minutes behind the first wave, which
meant that my time was actually 1:56.  I did it.  Sub two-hour half marathon and I still felt strong.
Assessing my body after that, I only noticed some slight tightening of my hip-flexors.  Everything else felt great.
As I passed mile 16, I was still amazed at how I felt.  I still stuck to the strategy and had not walked except for where planned.
My quads and calves started to tighten up a little more at the 18th-mile aid station.  I felt it more passing the last flag of the aid stations when I re-started running.  To be honest, I expected it earlier than that.
Sufferfest
The real pain hit at mile 21.  My quads screamed, my hamstrings ached and my calves were on fire.  I kept fueling with what was on the course, which luckily included some bananas.  The potassium seemed to relieve a little of the pain but not the tightness.
With 4 miles left to go, my inner dialogue argued with me from aid station to aid station. It expressed I needed to walk for a bit, however, the idea that I could run a sub-4, intrigued me, so I continued on.
At the 35k marker, I noticed my slow down to over a 9-minute mile.  I would have to go sub 8:30 to finish under four hours.  The uncomfortable tightness and pain in my lower extremities expressed that it was not realistic.  However, that argument did not include seeing how close I could come.
The 24-mile marker did include an extra 100 yards of walking before the need to complete this challenge took over.  My inner thoughts reminded me of the final miles of my completed Ironmans.  Everything hurt, but the desire to cross the finish line, triumphant, began overwriting the pain signals to my brain.
The Finish
I picked up the pace a bit at mile 25.  The pain was intensifying.  Luckily, so was the perseverance, and the reminders of all the times encouraging clients, to run through the pain.  That it isn't about knocking down the obstacles of life.  It was about how many obstacles life could throw but to still keep moving forward.  The pain was just another obstacle.
I turned the corner and my legs turned over a little faster identifying the sign practically yelling at runners, "400M(meters)" to go.  All I could think is one, more time around the track and it's over.
The 300m sign also brought the finish line into my view.  At that point, all the pain just went away.  It was over.  I crossed the finish line with my arms up in the air.  I did it and just slightly over four hours.  Final time: 4:04:17
Limping through the chaos of the Chicago Marathon finish, I realized that even including the worry and pain, this experience was amazing.  While the people, runners, and logistics were all wonderful, it was my internal struggle that made it great.
[one_half_first]
[/one_half_first]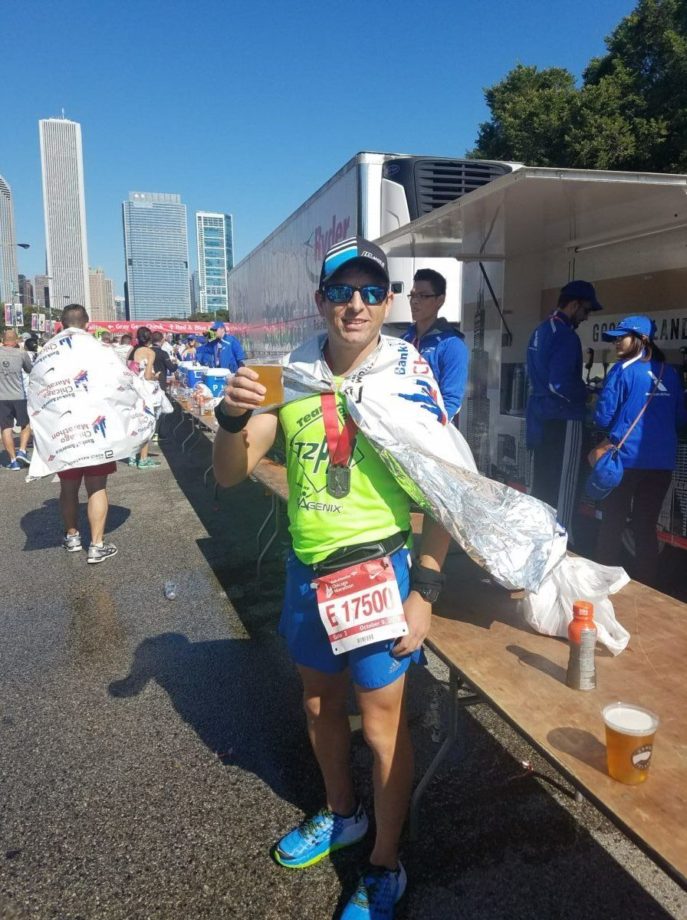 What breakthrough story do you have either in training or racing?
(Please feel free to share in comments)
Carpe Vitam! (Seize Life)